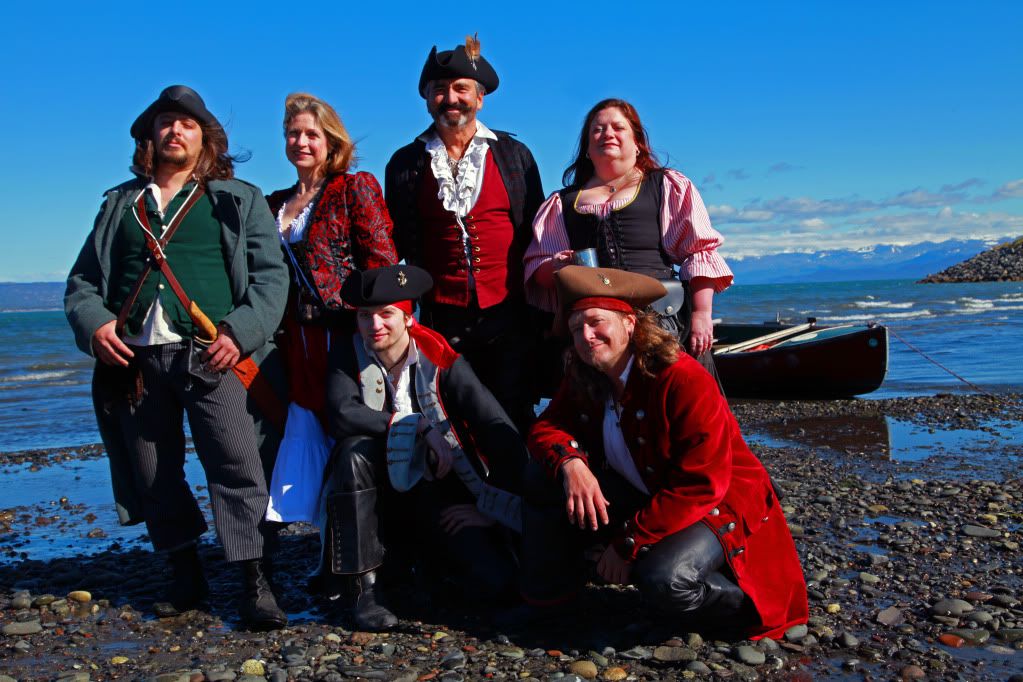 We are musicians dressed as nineteenth century "Irish Pub Balladeers", consisting of a band of six Anchorage performers, who play acoustic instruments, and sing traditional Irish/Scots songs, sea shanties, and pirate fare, whose lyrics often have a wry, humorous twist. Vastly enjoyable entertainment!
---
Rogues & Wenches toured Ireland with
Philip Price in March 2013!
You should have been there!
~ It was a trip of a lifetime! ~
Rogues & Wenches march and sing in the People's Parade in Dublin for the St. Patrick's Day Parade, March 17, 2013! The capstone to a fabulous tour of Ireland! Wish you had been there with us!
Where we began.

Rogues & Wenches Map of Discovery by Kevin Hall
We rogues met our boisterous wenches one warm Alaskan summer solstice while carousing at the local Renaissance pub the Crooked Toad Tavern, aboard the pirate ship, the Unforgiven. There we tarried into the wee hours of the morning, drinkin', wenchin' and engaging in all manner of merrymaking. The craic was 90 and the revels roll on.

---
Venues where Rogues & Wenches have performed:

Alaska State Fair, Palmer
American Legion Post 48, Anchorage
Anchorage Folk Festival, Anchorage
Anchorage Museum, Anchorage
Ashling Hotel, Dublin, Ireland
Bear Paw Festival, Eagle River
Birthday Parties, Anchorage
Border's Bookstore, Anchorage
Celtic Community Workshop, Anchorage
Celtic Treasures, Anchorage
Downtown Rotary, Anchorage
Egan Center, Anchorage
Elks Club, Eagle River
Fourth Avenue Theater, Anchorage
Funny River Bluegrass Festival, Funny River
Two Towers Hotel, Galway, Ireland
Girdwood Forest Festival, Girdwood
Guido's Pizzeria, Anchorage






Holiday Celebrations at the Capt. Cook, Anchorage
Irish Club's Afternoon in Ireland, Anchorage
Jolly Roger Pub, Palmer
Kachemak Bay Wooden Boat Festival, Homer
Mad Myrna's, Anchorage
McGinley's Irish Pub, Anchorage
Novel View Bookseller, Anchorage
Peggy's Pub, Avoca, Ireland
Reilly's Irish Pub, Anchorage
Samhaim Celebration, Anchorage
Scottish Highland Games, Eagle River
Scruffys Bar, Kilarney, Ireland
Seward Music & Art Festival, Seward
Taproot, Anchorage
Three Barons Renaissance Fair, Anchorage
Wakes (Celebrations of Life), Anchorage
Westwood Bar, Galway, Ireland
Wild Berry Theater, Anchorage
Weddings, Anchorage


Dave Arnold posted on Rogues & Wenches' Wall.
"These folks are AWESOME!!! I saw their show recently at the 3 Barons Ren-fair and had a fantastic time!!! I'd recommend their show to all!" June 2011

"It's always a blast catching the Rogue and Wenches performing - the show at the Forest Fair was no exception - keep it going gang!" -- Frank Kovalchek, July 2011, Girdwood Forest Fair.


IRISH CLUB OF ALASKA
Click on the icon to visit website.
---
Find more about Rogues & Wenches here: